Retractable Partition Walls For Restaurant Private Dining Rooms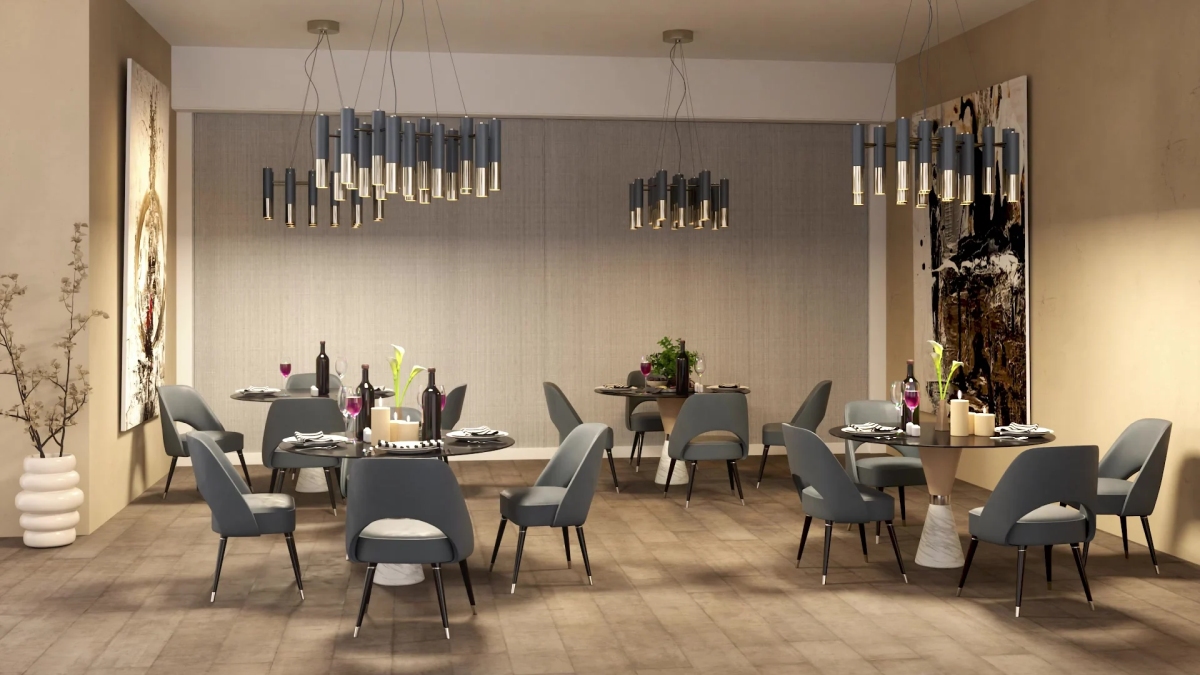 Owning a restaurant means constantly adapting to the ever-changing needs of your customers. From the COVID-19 pandemic to the proliferation of delivery apps, the restaurant experience looks very different now than it did just a few years ago. However, one aspect of going out to eat that has only become more popular in recent years is the private dining room. Though many restaurants fail to include this as a feature, private dining rooms offer a unique experience that can improve customer satisfaction and bring more people to your business.
But what are the benefits of a private party room or dining room? Why are private dining rooms popular? Finally, how can you use a restaurant partition wall to create a beautiful and private space for your customers?
In today's guide, we will answer all these questions and more, so let's get started!
Why Private Dining Rooms Are So Popular
A private dining room is not just an extra room in your restaurant. For customers, it offers a way to enjoy the benefits of private home dining while eating a restaurant-quality meal with friends and family. There are plenty of reasons why private dining rooms have been around for years, as well as unique benefits that make them more popular than ever:
Quiet Environment

- Whether customers are planning a surprise birthday party or they want to enjoy a quiet dinner out with their significant other, a private dining room provides a secluded, quiet environment in which to have a meal. Unlike the noisy setting of an open restaurant, a private dining room allows for more intimate conversations and privacy.
Special Events

- As previously mentioned, private dining rooms are a great place to celebrate birthdays, anniversaries, small wedding receptions, big announcements, and any special event in the customer's life. By reserving the space in advance, customers can guarantee they will have a table and ample space to celebrate.
Professional Gatherings

- From small business meetings to informal meals with coworkers, private dining rooms offer the perfect environment to have professional gatherings of all kinds. The extra privacy and separation from other restaurant patrons ensure that professionals can discuss sensitive work information, business matters, and achievements without being overheard.
Personalized Service

- When you add a private dining room to your restaurant, you also add the opportunity to give patrons a more personalized dining experience. Naturally, this experience will vary based on the style of your restaurant, but you could offer special services just for private dining parties, like customizable menu items and designated wait staff.
Controlled Experience

- In addition to the personal touch of a private dining room, customers can also have a bit more control over their immediate environment. In a private room, you may give patrons the ability to control the temperature, music, and even decorations.
Prestige

- Many patrons are willing to pay a bit more for the prestige of having a private dining experience. You can amplify this distinction with elegant furniture and exclusive services.
Health & Safety

- Notably, many customers may not choose the private dining room for any of the reasons mentioned above. They may simply prefer to be separate from large crowds of people. This option has become especially important for older patrons in the wake of the COVID-19 pandemic.
The Benefits Of Adding A Private Dining Room To Your Restaurant
There are a lot of potential benefits to utilizing a private dining room in your restaurant. Here are just a few of the most important ones to consider:
Higher Profits

- Private dining often comes at a higher cost to patrons, without greatly increasing your overhead. Additionally, private dining will help bring in people who are looking for this specific feature, which will ultimately increase your restaurant's profitability over the long term.
Versatile Space

- A private dining room doesn't always have to be reserved for private parties. When you don't have any bookings for private rooms, you can use the space to seat regular patrons.
Accommodations For Larger Parties

- Larger parties typically want privacy from other customers, which is doubly beneficial for you. Large parties mean greater guaranteed revenue. Plus, private dining ensures that large parties can enjoy themselves without bothering or being bothered by other people.
High-End Clientele

- Professionals and high-paying customers are more likely to take advantage of the private dining experience. This means you could potentially draw in more high-end clients by offering a private dining room and a more "upscale" restaurant experience.
Greater Customer Satisfaction

- Generally, the more you do to accommodate your customers, the happier they will be with your business. A private dining room gives customers more ways to enjoy your restaurant, while also ensuring that parties or special events do not disturb the experience of other patrons.
More Advanced Bookings

- When you save the private dining room for parties who reserve in advance, you can get more advanced bookings, particularly for large groups. This can help you secure revenue before the customers ever arrive and better predict your cash flow.
How Motorized Retractable Walls Work
Completely changing the structural layout of your restaurant may not be a feasible option. Not only would fixed walls and additions require you to close down your restaurant for days or even weeks at a time, but it would also limit what you could do with your space. Alternatively, motorized retractable walls offer a great solution for creating private dining spaces whenever you need them.
Generally, a motorized wall is comprised of a flat panel mounted on a track system. You can customize the look of the wall (on either side) to match the aesthetics of your restaurant, while the track system ensures that you can open and close the room as needed. For example, if you don't have any bookings for the private room but you have a lot of walk-in customers, you could open the space up for everyone. Alternatively, when you know that you're going to have a private party coming soon, you can close the space off to create a separate, private dining experience.
It's important to consider your specific needs and the needs of your customers when choosing a retractable partition wall. In the vast majority of cases, you'll want to choose a wall that is either soundproof or greatly reduces the amount of sound that can penetrate the space. Without soundproofing, customers may feel as though they've paid for a setting that isn't really private.
Tudelü Retractable Walls
Tudelü retractable walls can create the high-quality, private dining experience you want to give your customers, with the added benefit of a quick and easy installation. More specifically, our Private and Mute walls both offer a degree of soundproofing your customers need to enjoy their meals or private parties in peace. This feature also ensures that the rest of your customers won't be disturbed by large parties or loud events.
With the push of a button, you can completely transform your space. Need extra space for a large influx of customers? Want to give special clientele a unique dining experience? Either way, Tudelü retractable walls make the transformation process seamless. One minute, you have a large, open restaurant, and the next minute, you have one or more private dining areas. This is what Tudelü can do for you and your business.
We hope you enjoyed our guide on retractable partition walls for restaurant private dining rooms! Are you looking for a high-quality retractable wall to put in your home or place of business? If so, be sure to reach out to Tudelü today!